Polly was a semi-feral kitty that I adopted from a free roam shelter where I volunteered a little more than 5 years ago. My very first post on IMOM was about Polly, I had just brought her home. I still remember what it was about and that Kim replied first, it's funny the things you remember.
Poor Polly lived in my spare bedroom behind a screen door for the first year she was here, she was very territorial, we had a small kitten (Chloe -cha-cha) at the time and I didn't want things to get ugly. When we finally let her out she did fine, but still did not trust us, we could not pick her up and only once in a while would she let us pet her. After our Sylvia passed away, Polly got very close to my other senior kitty, Teddie. Here is a picture of them together...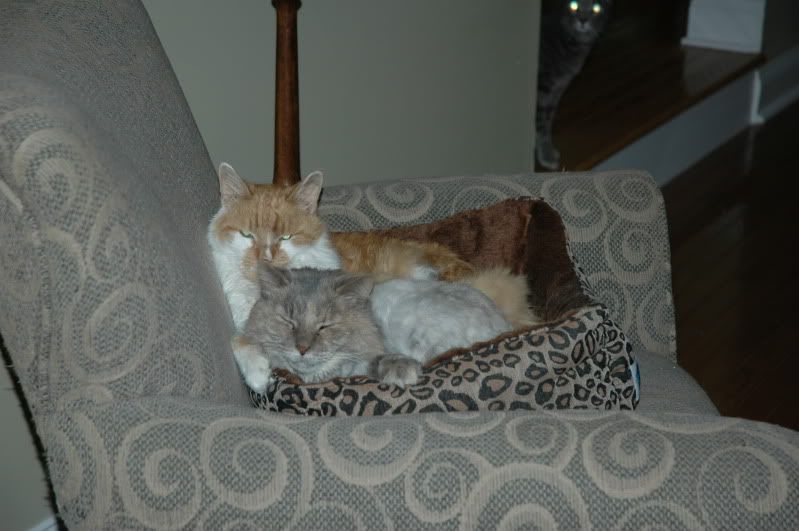 Right after we put Teddie to sleep on the 10th, we noticed that Polly was hiding a lot, I thought it was grief. A week later I noticed that she was drooling.....heavily, she also was having trouble eating hard treats, just couldn't seem to get them into her mouth then swallow them. Some very good kitty friends snapped me back to my senses and made me take her to the vet, I wanted to wait a week, still thinking it was grief. Polly was not easy to get to the vet, I would have to chase her into the basement and then trap her with a humane trap, it was awful. When my vet looked into Polly's mouth she discovered a large tumor under Polly's tongue, most likely cancer. Since Polly was semi-feral and very difficult to treat, we let her go then.
We miss her VERY much, even though she would only let us love her on "her" terms, she was still very much loved and part of our family. Losing her so close to Teddie has been especially difficult.
Rest in peace, Polly, a.k.a "polydactyl tortie from hell"...