I don't know what happened to my original post but I think I'll just do another one.
I've had Riley for 3 years (wow does time fly) I got him from the Tompkins County SPCA. I lost my dog Bear to cancer on October 2, 2004. It was the worst day of my life. I wanted another dog because I was so lonely but was afraid I would be trying to replace Bear. I went to the SPCA to just look. I had seen Riley listed on the petfinder.com website (great place by the way) but they had no information on him. As depressed and grieving as I was over the loss of Bear, I didn't know if I could handle a dog with issues. I figured I'd just go look. They're were all kinds of dogs, most of them hyper and none really interested in me. I went to Riley's room (yep they have rooms) and he was laying there, didn't even bother to get up when I came in but his tail was gently wagging. He had white on the right side of his muzzle, looked like he had been drinking milk (now he's got it on both sides). He was very gentle but didn't want to play with the toys he had, he was just content to sit with me and let me pet him. His tail never stopped gently wagging. I asked the volunteer about him and she said to go to the front desk and see if they had anymore information. The lady at the front desk pulled out his file and showed me the note the people had left with him. "He's a good dog and house broke". was all it said. She said while your mulling it over you might as well fill out an application. So I did, they asked a couple questions and next thing I know she says "sign here". I was shocked she said he's neutered he can go home tonight. I have no food or collar or lead. Here's a 5lb bag of food and return the collar and lead when you get him one. So I paid the fee and off we went and I haven't looked back since. We've had our problems and we also think he was about 6 years old when I got him instead of the 2 years old they said he was. But it doesn't matter. He doesn't play with toys except to destroy them. He is totally happy to lay around. He does love to go for walks and if he gets loose he runs until he drops, not good for his arthritis but he doesn't care. It took me two years before he would give me a kiss without feeling like he had to. I've been speaking to a healer over the last 6 months and she said Riley was abused. She has been helping me to treat him with essence remedies and he is a totally different dog. He seems happy now, which of course makes me happy. So now he's going on 10 I don't know how long we have together but he's with me until the end and every day is precious. He saved my life. He gave me a reason to get up every day and his love is precious. He also taught me a lesson. Just because things have gone wrong in your life before doesn't mean you can't make it to the top.
Here is my boy when I first got him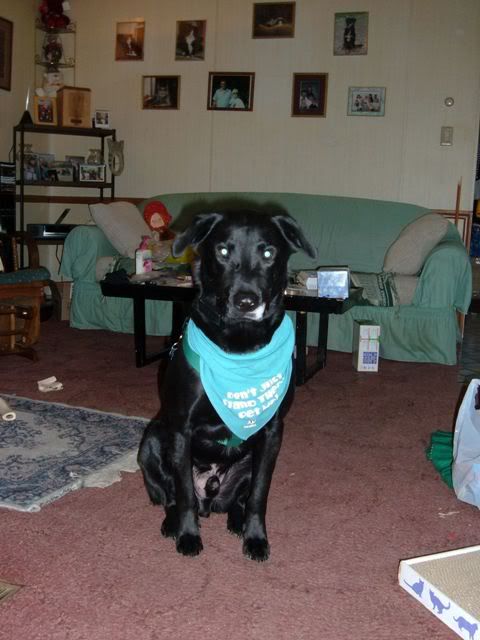 And here is the most recent one.